Current Events and Campaigns
Training workshop - Teachers and Professionals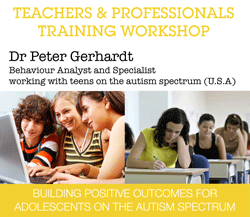 We are proud to present our teacher and professional training workshop - 'Building Positive Outcomes for Adolescents on the Autism Spectrum"
Our one-day workshop will be presented Dr Peter Gerhardt, one of the world's leading behaviour analysts specialising in teens and adolescents on the spectrum. The workshop is designed for teachers, teachers aides, educational and service professionals working with individuals on the autism spectrum. The program aims to provide essential and practical information on topics such
Addressing and managing challenging behaviours in adolescents

Adaptive behaviour

Transition planning

The Social World and the impact on the school environment

Autism, Puberty and Safety
EVENT DETAILS
Monday 20th of April 2015
Lizard Centre
13 Sirius Road, Lane Cove
9am - 3.30pm
Cost - $150pp + GST incl light lunch
Places are limited and pre registration is essential!
Don't miss this rare opportunity to hear from one of the world's leading behaviour analyst specialising in teens and adolescents on the spectrum.
FOR MORE INFO AND TO REGISTER PLEASE CLICK HERE
Autism: Building Positive Outcomes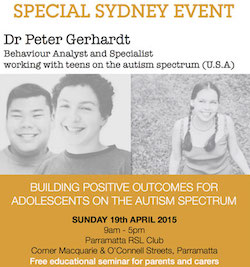 PARENT AND CARER EDUCATIONAL SEMINAR
Our free one-day educational seminar is designed for parents and caregivers of adolescents on the autism spectrum. The program aims to provide essential and practical information on topics such as: addressing autism in adolescents, behaviour management strategies, transition to work, life skills and sexual education.
Speakers include:
Dr Peter Gerhardt, leading international behaviour analyst specialising in teens and adolescents on the spectrum
Martin Wren, CEO of Nova Employment
Michael Whelan, author of 'The Other Country' and autism dad
Nicole Rogerson, CEO of Autism Awareness Australia
Sunday 19 April 2015
9:00am - 5:00pm
The Auditorium
Parramatta RSL Club
CNR Macquarie and O'Connell Streets
Parramatta NSW 2150

Pre registration is essential. REGISTER HERE

Surfers Healing Australia - March 2015
Words can't describe how incredible our inaugural Surfers Healing Australia events in March 2015 were! Our Surfers Healing crew were simply amazing....The smiles they put on kids faces, the tears of joy they gave parents, the inspiration they gave our local volunteers, their energy, their phenomenal talent and their huge hearts… It was such a privilege having them here with us and we can't thank them enough for sharing this experience with Australian families!
Check out some of the photos from our surf days!
MANLY EVENTS
NOOSA EVENT
What is Surfers Healing?
Surfers Healing, a non-profit that introduces surfing to children with autism, taps into the unmatched tranquility of the ocean and helps nearly 5,000 children a year who struggle with the sensory overload that often accompanies autism.

Professional surfer Izzy Paskowitz and his wife, Danielle, founded Surfers Healing in 1998 after they found it was therapeutic for their son, Isaiah, who was diagnosed with autism. Once they realised how well surfing worked to engage their son, they knew they had to share their success with other families.

Surfers Healing now brings together professional surfers and families at more than a dozen beaches across the USA, Hawaii and Mexico. While the events are mainly fun for the children, they also serve as a great opportunity for parents to network and see a support system exists for their family.

Surfers Healing Australia
Autism Awareness and Surfers Healing USA are thrilled to be partnering together to bring this amazing experience to Australian families.

Our goal - To enhance the lives of children on the spectrum, to give them and their families a memorable day together at the beach, teach them a new skill and all while being supported by our passionate and expert team of surfers and volunteers. #OnePerfectDay

We hope to make this an annual event that is hosted in every state across the country over the years to come.
The Lion King - autism friendly performance
We are thrilled to be partnering with Disney to bring you Australia's first ever autism friendly performances of THE LION KING!
Following the successful performance held in Sydney and Brisbane in 2014 we are excited to announce we will be holding autism friendly performances of THE LION KING in Melbourne!
Performance dates
MELBOURNE - Saturday 8 August 2015 at the Regent Theatre
This specially adapted performance will be suitable for people on the autism spectrum and their families, to see the award-winning production in a friendly and supportive environment. Trained staff will be on hand, and dedicated quiet and activity areas set up, should anyone need to leave their seats.
Slight adjustments to the production include removal of strobe lighting, reduction of any jarring sounds and lights focused into the audience, house lights being dimmed and flexibility to bring your own snacks.
Set against the majesty of the Serengeti Plains to the evocative rhythms of Africa, THE LION KING uses breathtaking theatrical magic to tell the story of Simba's epic journey to fulfil his destiny as King of the Pridelands.
To book your tickets for the Brisbane show and plan your experience please visit www.lionkingautismfriendly.com.au
How to Book
Online: www.lionkingautismfriendly.com.au
Phone: 1300 889 278
Mon to Fri 9am to 5pm
Visit: Regent Theatre Box Office, 191 Collins St Melbourne or Princess Theatre Box Office, 163 Spring St Melbourne. Opening Hours: Tues to Sat 9am to 5pm and Sun 1pm to 4pm.
VIEW PHOTOS FROM THE SYDNEY AUTISM FRIENDLY PERFORMANCE of THE LION KING HERE!



#autism2014 - a national survey of autism parents and carers
In August 2014 we launched a national survey targeting parents and carers of children and young adults on the autism spectrum. With the national rollout of NDIS fast approaching, we wanted to get a clearer picture of what autism support services look like in Australia so that we can continue to effectively advocate for the needs of autism families.
While many issues and ideas were raised through the survey responses, three core themes rose to the forefront:
People on the autism spectrum, and those who provide their care, have a life cycle of needs and deserve meaningful support in order to achieve best possible outcomes.
Parents and carers are frustrated by the level of support available and difficulty accessing much-needed services. They fear that disability services will continue to be underfunded or further cut back under austerity budget measures.
There is confusion and scepticism about how NDIS will play out in real life and how it will impact autism families.
Please take the time to read through the SURVEY SUMMARY REPORT which outlines the key points and findings from our survey.
One important final note: Given Autism Awareness Australia's experience base and credibility in supporting families with young and school-aged children, we are well-positioned to capture their impressions. However, there are other critical voices from the autism community – especially those of autistic adults – that need to be heard as the NDIS is shaped and implemented. We urge the government to listen to all of our voices as this historic program takes form.
Thank you to all respondents for taking the time to complete our survey. Your experiences and input have been pivotal in helping us better understand the needs of autism families across Australia and how we can best support you.
We hope you will find the summary results as valuable as we have, and we encourage you to share the report with all your networks.


What are you doing? a film about autism
'What are you doing?' is a short film created by Autism Awareness Australia which aims to teach school-aged children about acceptance and understanding of their peers with Autism Spectrum Disorder (ASD).
Narrated by television personality Tom Gleisner and written by 
'The Other Country' author Michael Whelan, the film includes enlightening interviews with the brothers, sisters, cousins, and friends of children on the spectrum. Through beautiful imagery, engaging narrative and quirky animation, 'What are you doing?' sends the all important message of inclusion and understanding of all those with ASD by their peers and within their communities. It has received glowing reviews at its three premieres in Sydney, Melbourne and Brisbane, and has enormous support from parents and educators across the country.

'What are you doing?', along with accompanying teaching materials, has been distributed to every school in Australia, totaling over 10,000 copies nationwide. To find out more about the national school disctribution of the filmp please click here